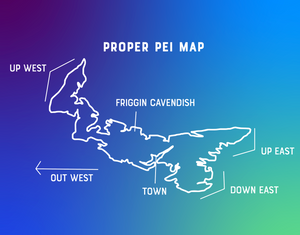 An Island Collaboration
I've been following along and admiring The PEI Potato's content on Facebook for quite some time. Not only are the meme's painfully hilarious, but The Potato is also FIRE in the comments section. What more could you ask for? When our anonymous hero asked to collaborate on a t-shirt for their most liked meme on Facebook, I happily obliged, and on Friday evening we launched a collaboration product! 
Show your friends from away how to get around on PEI! Perfect for explaining the difference between Up West and Out West, starting an argument about the existence of Up East and pointing out Friggin Cavendish!
Use promo code LOCAL2019 for pickup in Charlottetown.
Pre-orders will be open until June 17th and shirts will be shipped by July 8th.
---