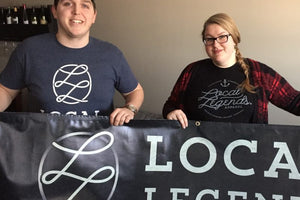 Interview with The Guardian
We're featured in the Guardian this week! Take a read:

"CHARLOTTETOWN, P.E.I. - Islanders now have a way of expressing their love for P.E.I., without having to say a word.Local Legends is a new clothing brand created in Charlottetown, which aims to promote living in P.E.I. and pride in being an Islander."I wanted to make a company where I could express my love for the Island," said Local Legends co-founder Aidan Northcott.
The 25-year-old is originally from Stewiacke, N.S., but moved to the Island in 2011 to attend UPEI. Since then, he's met his girlfriend, along with many close friends, and has fallen in love with the province. Northcott had always been interested in creating a clothing company, and after falling in love with his new home, wanted the company to replicate that same love.
Ashley Paynter was a friend of Northcott's who was working at the P.E.I. Brewing Company where she would help design the logos for beer bottles and cans. To go along with that, the 29-year-old had also created an 'Honourary Islander' shirt that she was selling at her mother's gift shop in Springbrook.
Northcott reached out to Paynter about his idea and the two partnered up, selling the 'Honourary Islander' shirts as their first product. From there, the two created multiple other shirt designs that encourage Island pride, including ones with their company name, Local Legend. Paynter said Islanders are proud of where they come from, so they should have a shirt that reflects that pride.
"No matter where you go, whether it's out west to work, or just simply going on vacation down south, you're always proud to tell people you're from P.E.I."
Local Legends was founded on June 2, 2016, and began selling its clothes online a month later. The official launch for the company came towards the end of July, and since then, Northcott said the response has been amazing.
"Everything we've heard back from people has been really positive. We've had people who buy clothes from us to send to their relatives who live elsewhere because they love being from P.E.I. and they want to show off that love."
Though the company is still young, both Northcott and Paynter want to continue to grow and expand their business."We want to make more types of clothing, get in on more Island events and have more retail space to sell our clothes," Northcott said."Our ultimate goal is to one day have our own Local Legends store. That'd be phenomenal," Paynter added.
Along with shirts, Local Legends makes hoodies, baby-sized shirts, and recently launched a line of athletic shirts. All of which have designs that promotes being from P.E.I."
---