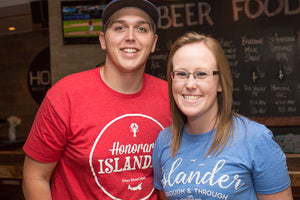 #LLSTORY - Aidan Northcott
It's that time of the week! This edition of#LocalLegendsStories features one of our very own! Check out Aidan's adventure to the Island!
"If we're starting from the beginning, my first PEI experiences happened on family trips with my dad, step-mom, and siblings. We did all of the typical Cavendish things: Spoke to the talking tree at Rainbow Valley, went to the beach, and visited Avonlea Village. It was a blast!
The first time I thought about moving here, however, was in January of 2011. "Kowboy" Mike Hughes was holding a wrestling tryout for a chance to win free training, and at the time I was obsessed with becoming a pro wrestler. I forced my step-dad to battle a snowstorm so that I could come over and give it a shot. I puked multiple times, was completely exhausted, yet when I left I knew that no matter if I won or lost, I had to move to PEI and give it a shot. So, I quickly transferred from St. Mary's University to UPEI and made the move in September 2011.
When I first moved here, I thought I'd be here long enough to become a wrestler and be on my way. I thought maybe I'd finish my degree here, or maybe I'd just transfer somewhere else with more wrestling opportunities. Either way, PEI was not in my long-term plans. Not long after I moved here, I fell in love with this island. Despite the long Island winter we were having, I fell in love with the laid-back lifestyle, and the small-town feel in Charlottetown. When summer came, I fell in love with the beaches, the culture, and, for a summer, Peakes Quay.
Another year passed by and I loved this place even more. I met a girl and it only made sense that she was born and raised in the eastern end of PEI. I started further entrenching myself in the Island lifestyle, creating roots here that I didn't want to break. By the end of my third year on PEI, I knew that this place would be my forever home.
Two years later, nothing has changed; I still want to train to be a wrestler, but I'm in no rush to leave. I still go to Nova Scotia often to visit family, but when I leave I say that I'm going home to Prince Edward Island."
Aidan Northcott
Co-owner // Local Legends Apparel
If you'd like to share your story with us, you can message us through our Facebook page or email us at hollah@locallegends.ca!
---