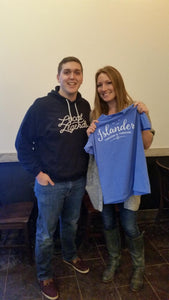 #LLSTORY - Heather Moyse
This week's Local Legends Story comes from someone who is more than just a Mighty Islander. Heather Moyse is one of the most decorated athletes to come from Prince Edward Island and has begun inspiring others across Canada to achieve their dreams. Thank you so much Heather for taking the time to speak with us!
"I was born in Summerside, Prince Edward Island, at the old hospital. That hospital was probably three blocks north of where I grew up. I moved into the house that my parents are currently in when I was about four weeks old, so it's the only one I've ever known and the only one I grew up in. There's just so many memories in that house!
In high school I competed in soccer, rugby, basketball, and did track and field. I'd say that rugby is my favourite sport; it's more than a sport. Rugby is a culture, it's a community; I think people who have played rugby or have been associated with rugby, they know exactly what I'm talking about. It's a sport that, in my opinion, is quite inclusive. It's not one particular body type that can play that sport; it just brings so many people together who wouldn't necessarily normally have been competing together.
I was recruited to bobsled; I didn't grow up dreaming of becoming a bobsledder or doing bobsledding (now tobogganing is a whole different story!). I did three different sports at university and someone who had formerly done bobsledding had been asked to do recruiting in Eastern Canada. He said that I was the first person that came to mind, just in terms of having that ideal combination between strength and speed. At first I turned him down, I said "No, not interested"; four years later I ran into him again and finally just agreed to do the testing. When I did the testing I suddenly realized what a challenge it would be to see if I could compete in the Olympics five months later.
I love people that move away and then come back here, or people that have chosen to move here, like Islanders by Choice or Honorary Islanders. It means they've discovered that this is the most amazing corner of the world and it's a hidden gem… Maybe not in March, but the rest of the year is pretty good! My family keeps bringing me back; my parents still live in the same house that I grew up in. Summerside is my community; if you can't come back and give back to your community, the one that basically created me and helped kind of raise me as a whole, then what?
My fondest memories? We don't have time for the whole list! I'd say my fondest memories would be from our cottage. By cottage, I don't mean our summer home. I mean our cabin in the woods, on the water. No TV, no internet, and back then we didn't have cell phones. We had one phone and the number wasn't listed, nobody could reach us except our grandparents and neighbours in case of emergencies. It was a party line; you had to listen for a particular kind of ring to know that you could pick up. If it was a different ring, it was for someone else down the road, it was amazing!
What's next? I have a few things on the go. I'm trying to create things that add value to other people. Personally, it's about "How do I reach more people on a bigger scale?" and a lot of it is about helping people see things in a different perspective, helping them with goal setting, and breaking down those goals into achievable pieces. I love empowering other people and making them realize that a lot of times we're selling ourselves short. It's been interesting changing my focus into actively trying to figure out a way to help people. Right now I'm speaking to corporate groups all over the country.
I don't know if I could name one thing I love about PEI; I'd have to say the pride that Islanders have for where they come from... and the red roads!"
Heather Moyse // Professional Speaker, 2x Olympic Gold Medalist, World Rugby Hall of Fame Inductee
---