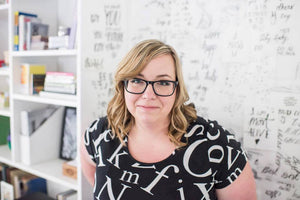 #LLSTORY - Kim Roach
This #LocalLegendStory comes from the one and only, Kim Roach who is as talented as she is charming. You may have seen her welcoming face at Markets around town such as Etsy, Farm Day in the City, and Pop-up Shops presented by DWN. TWN. FOX. 
"Hey! My name is Kim Roach of Kim Roach Design, and I'm an Illustrator and Stationery/Art Designer. I also co-own The Makers in beautiful, quaint, North Rustico. The Makers is a boutique overflowing with local maritime artisan goods and Island charm. 
I truly am an Islander through and through, and I've lived here since birth (except for a small stint in Ottawa) on this amazing small island. I'm extremely proud to call it my home. There have been so many changes on PEI, it's growing and evolving every year. It is a pretty cool, humbling, and amazing process to see it happening right before my eyes. I used to feel that opportunities were hard to come by on our little island, but something shifted and I realized we have to make our own opportunities. All of those things that we thought were missing from our 'dream' island, it's OUR responsibility to make them happen and to build our island up together!
I try to focus my designs and work on creating positive, feel good messages. Some people may say they are cheesy and romantic, but that's because the majority of them actually reflect my beliefs and values. That is something that I am really proud of. I'm naturally a romantic by heart, so I get really caught up thinking about my products in the homes of others and that they are a small part of their celebrations throughout life. I mean how neat is that?!"
- Kim Roach // Illustrator, Stationery/Art Designer
---