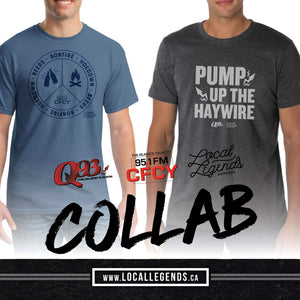 Q93 and CFCY Collaboration Fundraiser
We're extremely excited to announce a new partnership with 95.1 FM CFCY and Q93FM in support of the Christmas Miracle. We've designed two brand new t-shirts honouring a couple of iconic staples of the Prince Edward Island music scene - The Saturday Night Hoedown and platinum recording artists Haywire!
The Hoedown has become a Saturday night tradition for Islanders from tip-to-tip, highlighting the classics that spark great memories. Paired with a cold one and a bonfire, it's become the soundtrack to a perfect summer Saturday night.
What else can be said about Haywire? Founded here on Prince Edward Island, the band achieved worldwide fame with songs such as Dance Desire and Bad Bad Boy. The best place to listen to the band here on PEI is the Island's rock, Q93!
10% of all profits from the sale of these shirts will go towards the Christmas Miracle, a fundraiser dedicated to ensuring that every child on PEI has a memorable Christmas morning.
Shirts are now available for pre-order at www.locallegends.ca/shop, so head over there today and be the first to snag our newest shirts! 
---