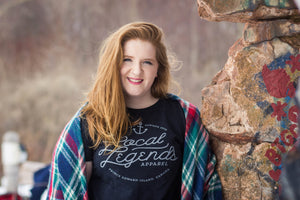 Spring forward: Local Legends in 2018
Oh hey there, it's been awhile. How've you been doing?! Awesome? That's great to hear, we've been doing awesome too! And with that '*slightly* obvious lead-in, we want to share with you some of the exciting things coming down the pipeline for Local Legends this spring AND also time travel back to 2017 for a recap of last year's highlights.
2017 RECAP
Growth is never by mere chance; it is the result of forces working together. - James Cash Penney
2017 seemed to fly by in the blink of an eye here at Local Legends headquarters, but when we look back at those 365 days, it's like we're miles and miles from where we started the year! Bottom line, we were (and still are) going through a major growth spurt - the kind that demands a second helping of Mom's spaghetti dinner and maybe a third some days.
A big highlight of 2017 was bringing three new retail partners into the Local Legends family. We LOVE PEI for some many reasons, but one of the biggies is that there's a really collaborative and supportive business community here - everyone is working together to help everyone succeed. Big shout out to all of our retail partners - Fisherman's Wharf Lobster Suppers in Rustico, Sea Garden in Springbrook, The Shore Market in Brackley, The Old General Store in Murray River, Kent Street Market in Charlottetown, and My Little Stash at Peake's Wharf.

Another big change for Local Legends in 2017 was the departure of our beloved co-founder, Aidan. Aidan was instrumental in bringing Local Legends to life alongside co-founder Ashley Green, but ultimately chose to leave the business to pursue other professional goals. His endless GIFs, knowledge of sporting folk and unique partnership ideas have been missed!

Rounding out 2017's growth spurt, Local Legends upped its all-weather game by expanding our line to include winter accessories and 902 sweaters that complement the tanks and tees we're known and loved for!

What's in Store for 2018?
Yes, yes, we realize 2018 is already well in motion, but we've been super busy plotting all sorts of Legendary stuff to roll out to you all! First up, we're pumped to announce that Local Legends Apparel will soon be available through NEW retail partners - stay tuned for more deets on this front.
Our spring line-up is full of fun, summery vibes and we can't wait to show 'em off. We'll be launching the new line at the Etsy Artisans of PEI Spring Market, which takes place April 28th and 29th at the Delta Prince Edward. We look forward to seeing you there.

Speaking of April, it's kind of a big deal here on PEI thanks to Burger Love, the month-long culinary competition celebrating burgers and Island beef. Here at Local Legends, we were delighted to sponsor Al Douglas' Burger Bus in support of the Canadian Mental Health Association. This year the burger bus crew hit up 12 restaurants in 6 hours. We definitely took one for the team here folks! And we're already brainstorming a limited edition of 'burger pants' to help folks enjoy next year's Burger Love even more. Hint: elastic waistbands will be making a comeback!
The back half of 2018 is going to be a busy time too, with the PEI Beer Fest and Farm Day in the City in September, and pop-ups at several Christmas markets. We'll give you a heads up on these events closer to the date.
Finally, we're stoked to announce the return of our Local Legends Stories after a bit of a hiatus! We loved connecting with inspiring, legendary Islanders and sharing their stories with you and you told us you loved 'em too, so they're back. If you know a Local Legend that you think we should profile, please shoot us a note with their name, contact info and a few words on what makes them legendary.
Photos: @StillAnInnocent - Hayley Wood
Model: @Gingy0212 - Laura Hardy
---